Best Places To Live In Costa Rica
I typically tell you first where NOT to live, if in fact there are some areas that I believe are not safe or secure.
Costa Rica, like most countries, has a variety of areas in which to live. There are several different climates – which of course are important to survival – especially when it comes to growing food. As expected, there are also several different social class areas (the rich live here- the poor live over there; the expats live here – the locals live over there…)
But for this initial lesson in where NOT to live, I think it is relatively easy to divide the country in half. Now Costa Rica on the map goes from the northwest to the southeast. I would NEVER live in the northern third of the country (including all of the Nicoya peninsula) and I would not live on the Caribbean half of the country (the 'north east' half that goes all the way down to the 'southeast part' of the country. Here are my reasons why:
The Northern third of Costa Rica has a few major negatives.
The northwestern fourth of the country has a VERY DRY dry season, that includes annual forest fires. Hmmmm? Not a good thing. Not good for your home. Not good for growing things (no water.) Not good for hydro power (no water.) Not good for survival. Water is, after all, your #1 survival commodity!
During the rainy season (April to November) many of the roads are IMPASSIBLE. People complain of it taking an entire day to get less than 100 miles. Getting stuck during the raining season is in my opinion, a big no-go area.
The northern half also has the most amount of active volcanoes and is the area where most (not all) of the earthquakes take place. Do you want me to expound on this, or does it already make sense why you should stay clear of these areas (to the best of your ability)?
Also, I simply do not like Nicaragua that much. It is not as bad as El Salvador or Belize or Honduras or Guatemala. But it is NOT Costa Rica either. Stay away from the border/frontier of Nicaragua. (Just read ANY comparison of the two countries from anyone who has spent time in both countries, and you will get a clear picture of why Costa Rica is soooooooo much nicer.) Just as it is similar in the US, the closer you get to the Mexican border, even though it is IN the United States, it LOOKS and FEELS like Mexico. The closer you get to the Nicaraguan border, the more it looks like Nicaragua.
The city of San Jose and the Central Valley. It is ALWAYS advisable NOT to live in or near a big city. A rural area, where nearly everyone is independent and growing some of their own food, is more safe and more ideal. Over 60% of the population of Costa Rica lives in and around San Jose and the Central Valley. Now there are areas of the Central Valley that I think ARE acceptable (see below.) The Central Valley is HUGE and does contain some of the most perfect weather in the country. It is these outlying areas that are far away from San Jose that one can find paradise, peace, and the perfect life. One more word on San Jose. I have been to nearly every Latin American country's capital, and San Jose is NOT in my top 10 favorite cities. It is dirty, 'old' (in the bad sense – not old in the antique – historic sense), and it is where much of the crime in Costa Rica happens to be centralized around. The traffic is the worst of ANY city I have been in. Are there worse cities – oh my yes! Are there nice areas in the suburbs – oh my yes! (Escazu and Santa Ana are nearly as nice as anything found in the US.) But my advice is stay clear of San Jose.
The Caribbean side or what is called the Limon Province (anywhere in the country where you are 35 miles or less from the Caribbean Sea) is fraught with problems. Mosquitoes and humidity. The black/Caribbean culture. More volcanoes than the south coast - Pacific side of the country. Fewer expats. Fewer business opportunities. Fewer businesses period.
OK. I know I will get some people complaining about my seemingly negative statement about Caribbean culture. Here is the explanation. I am a TRUTH SEEKER and TRUTH TELLER. I stick with the facts, the stats, and careful observation on my world travels. It is a known fact that the greater the concentration of black Caribbean people in an area – the higher the crime rate. More drugs – more drug dealers – more drug problems – including theft, robbery, AND murder. This is a solid truth that cannot be denied. And just like in the United States, the cities with the greatest black populations also has the most violent crime, the countries and areas with the most black Caribbean people have the most violent crime. You have been warned. Enough said.
Now, to the areas of Costa Rica that I think are the best places to live.
The Western Part of the Central Valley
If you read all the expat blogs, articles, and publication on where to retire in Costa Rica, you certainly are going to come away with the thought that the northern central valley is where EVERYONE is going. Granted, there are thousands of expats living in the Central Valley expat hotspots of Grecia, Alajuela, Escazu, and Santa Ana. In my opinion, these are WAY TOO CLOSE to San Jose. And that is probably the reason that American expats are moving to these cities. Are they lovely? Well yes! I have been to everyone of them. But for surviving The Collapse, they are WAY TOO CLOSE to San Jose! PERIOD!
But there are some expat communities in Atenas, and further 'out' west in the towns of San Ramon (northwest central valley) and Puriscal (southwest central valley). Why the central valley? The weather is nearly 'perfect'. No humidity. Year-round spring like temperatures – highs in the 70's and low's in the 60's. A HUGE percentage of the homes have neither heat or air conditioning! Not because they are too poor to afford it. But because there is no need for it. The ideal temperature for a home is 68 degrees to 74 degrees. This is smack dab in the middle of what the OUTDOOR temperature is every day. It is "easy" to keep your home within this range without heat or air conditioning.
The advantages of being close to modern conveniences and the major expat hospital is one of the MAJOR reasons expats stick close to the central valley. Being one hour away from the airport, hospital, and all major shopping and restaurants IS convenient. However, I like to think that for survivability sake, being even further away is better. However, for the person going it alone, and is not going to be part of an already existing community or starting one, being in the far west of the central valley will have its benefits. You will not be alone, or need not be.
You can purchase land that is isolated, yet ideal for survival. In and around the Puriscal area (especially south and southwest of Puriscal) has lots of opportunities as well as just south of San Ramon. Coffee plantations are available for purchase, as well as other fruit and orchard properties.
San Ramon is much nicer than Puriscal. The later town has not yet been 'discovered', and is lacking in some of the conveniences that San Ramon has had for years.
The South Pacific Coast Area
The entire stretch of Pacific Coast in Costa Rica is called Puntarenas. As stated above, the northern part (anything north of the town of Puntarenas) is not recommended. The southern half of Puntarenas is really beautiful, has very little population, contains REAL wildlife (monkeys, sloths, toucans, scarlet macaws, hummingbirds…) and the most jaw dropping waterfalls you have ever seen (that you can purchase and will be part of YOUR private paradise!)
NOTE: I think it would be ill-advised to live on the beach or near the ocean. Tsunamis, rising seas, a meteor crash into the ocean, as well as humidity, cost of land, population density and overall lower survivability causes me to nix the beach front property for a more realistic piece of land inland, where there is less humidity, fewer people, cheaper and more viable survival properties, with increased security and protection.
NOTE: The FAR south area of Puntarenas (the Osa Peninsula) is VERY REMOTE and not on the top of my list. IF you are a 'go it alone', I want to be 'out in the middle of nowhere' sort of survivalist – the the Osa Peninsula is most likely your cup of tea. Though there is very little property for sale in this area. Most of the peninsula is a national park.
My preferred area is anywhere between Quepos and just south of Coronado – inland up in the mountains, centering on the Dominical-Uvita-Ojochal region. Why?
I have already mentioned the pros of living just inland from the coast: less humidity, fewer people, cheaper and more viable survival properties, with increased security and protection. But there is more. In this area, there are whole entire areas dedicated to self-sufficient living, farming, and horticulture. The people are SUPER friendly, as well as VERY industrious and self-sufficient. And then there are the MOUNTAINS. Yes MOUNTAINS. Only in this area of Costa Rica do HUGE mountain ranges drop right into the sea. And what a spectacular topography it makes! Hundred foot waterfalls abound. Privacy is anywhere and everywhere. Not like flat-as-a-pancake land, where you can see all of your neighbors for miles around (and they can see and SPY on you!)
I have spent quite a bit of time in this area, with several real estate agents, looking at various survival type properties. I can inform you that plenty are available (mid-2016). In a plethora of shapes and sizes, but almost all have ample water, many with creeks, streams, or even rivers running through the property (or bordering the property in many cases.) There are several properties that already have massive food production operations. Unlike the the Central Valley, where tens of thousands of US expats live, and have lived for decades, this area is just now being discovered. One of the MAIN reasons: the highway along the coast was just RECENTLY paved, making it MUCH MORE accessible. Once the 'rush' of expats is on - prices will increase dramatically.
The privacy factor in this area is second to none. What a big plus that is when it comes to safety, security, and survival.
There is an area called San Juan del Dios valley (St John of God Valley) that is near Plantanillo, just a few miles north of Dominical. It is one of the most spectacular areas in all of Costa Rica. The topography is jaw dropping and the land is incredibly fertile. The elevation is between 1,000 and 3,000 feet – so the climate is cooler and less humid, a bit drier. The area receives rain even during the 'dry' season in Costa Rica, which helps with growing food, hydro, and overall survivability.
The bottom line about expatriating to Costa Rica is this:
There are many wonderful areas to live in. You certainly have a choice. Whether you go-it-alone, join a community of like-minded individuals, or start a 'community' yourself or with family members and friends, you can find reasonably priced land to survive The Collapse.
I have included several maps (see below) to help you understand all that I have written (see above).
This first map shows the seven provinces of Costa Rica. The Limon Province (along the Caribbean coast) is mentioned as one of the areas NOT to live (humid, mosquitos, Caribbean culture...) Also you can easily see the Guanacaste Province (too dry, bad infrastructure, close to Nicaragua...). The best areas to look at expatriating to (in my opinion based upon the facts and research) are the southern two thirds of Punatrenas (pink area) and the southern two thirds of San Jose Province (purple area).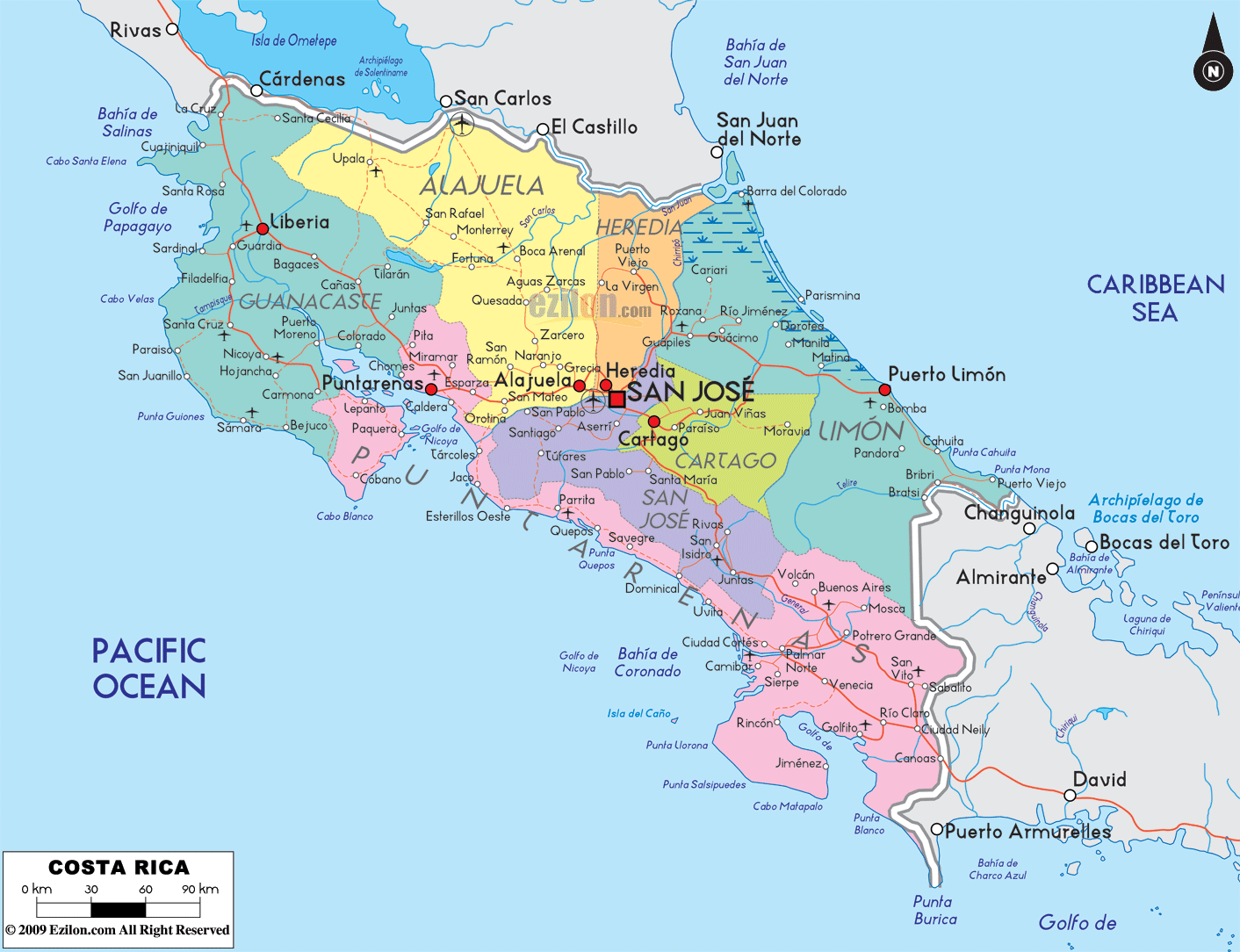 This is a topography map that shows the elevation of Costa Rica. Notice the Pacific coastal town of Dominical that I highly recommend. See where the mountains drop directly into the ocean in this area? This is the ideal place to live in Costa Rica in my opinion. In less than 5 miles (as the crow flies) from the ocean you can be at elevations over 3,000 feet. And in 10 to 15 miles the elevation can be over 5,000 to 7,000 feet! The rain that falls on this mountain range 'pours' into the Pacific year-round via streams and rivers. A big plus! Also, due to the mountain topography, properties in this region are EXCELLENT for privacy, security, and survival.
This map shows the amount of rain (in inches) that Costa Rica receives in a year. You can see that the Guanacaste region (the far northwest corner) gets the least amount. As stated above, during the dry season (which lasts about half a year), they virtually get NO rain. This is the main cause for their annual forest fires. Southwest of San Jose (see Santiago de Puriscal) all the way down the Pacific Coast (see Quepos and Dominical) receive a healthy amount of rain, between 120" and 160"! And one of the good things is during the dry season (November through April) this area receives weekly rainfall, which is a HUGE plus. For a comparison, in the United States, the wetest area is the Gulf Coast, especially Florida. Only here does the percipitation reach 50 inches per year. Other major cities and their annual rainfall (includes snowfall melted down to liquid state): Anchorage, Alaska 16". Atlanta, Georgia 50". Austin, Texas 33". Chicago 36". Denver, Colorado 16". Helena, Montana 11". Honolulu, Hawaii 18". Las Vegas 5". Los Angeles 13". Miami, Florida 58". New York City 49". Phoenix, Arizona 8". Portland, Oregon 37". Salt Lake City, Utah 16". Seattle, Washington 37". Washington DC 40".
This map shows where the major volcanoes are located in Costa Rica. They are mostly in the northern half and eastern half of the country. Living in my #1 recommended area (south of San Jose along the Pacific Coast - but inland up in the mountains) assures that the prevailing winds (west to east) keeps any volcanic eruption moving away from where you would be living. The chance of being killed by a volcano in Costa Rica is almost nil, but having your home disrupted, your crops destroyed, and your life-turned upside down can be a real-life possibility living near and/or downwind from an active volcano.